CASL Co-Ed Kickball Summer 2019 Kickball · Co-Ed Just for Fun
Requires Active Participant Membership
MonTueWedThuFriSatSun 6:15pm to 8:30pm
Team Fees

Early Bird

$60.00

per player

Regular

$65.00

per player
Free Agent Fees

Early Bird

$60.00

Regular

$65.00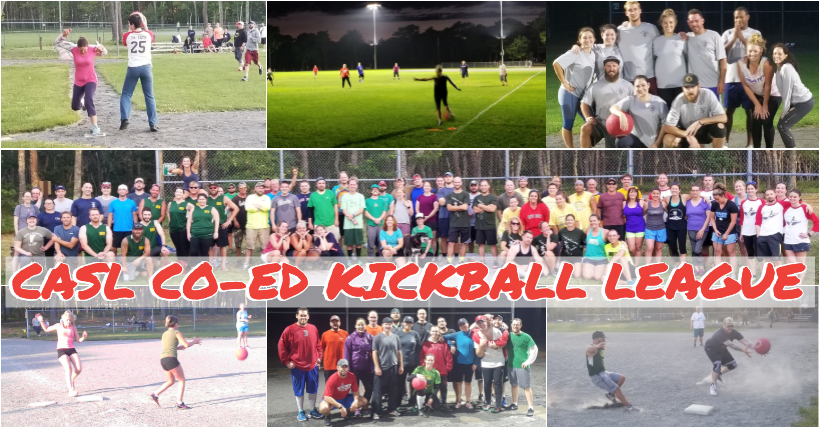 *Guaranteed 8 Games *Social Style League
*Co-ed League *Emphasis on having Fu
*Playoffs *10 Players per Team
*Meet New People *Post Game Socials

Are you ready to go back to the days of having recess? CASL Adult Co-Ed kickball is ready to start our Summer Kickball season. The idea is to get outside, have some fun, meet new people, and take life a whole lot less serious.

Details of the League:

Games are played Wednesday nights at Johnny Kelley Field in Dennis. We reserve the right to offer makeup games on another night of the week

7 regular season Weeks

Every team makes the playoffs

Winning team gets the honor to raise the coveted CASL Cup and have their plaque added to trophy

We want to get as many people playing as possible, so join as a full team, a small group, or as an individual "Free Agent". We will work on putting the teams together to make this a fun league for everyone. Keep in mind that this is a social kickball league sprinkled with friendly competition. If you are not laughing, then you are doing it wrong.
REGISTRATION OPTIONS

Join as a Captain: Do you have a group of at least 8 that want to play in the league? Register as a Captain and you will be given tools to notify and recruit players to join your team. We will round out your minimum 10 player team with free agents.
Join as a Team Player: Use this registration option if you are recruited by a Captain to join their team.
Join as a Small Group or Free Agent: Do you want to join the league to meet new people on your own or as a smaller group? Use this option. If you are a small group, be sure to all use the same group name, so that we will know to put you on the same team.If you are an individual just join as a free agent and we will place you on a team.
The

fun doesn't end with the final out. We have partnered with several

local bars for some post-game socializing. The sponsor bars are

kind enough to put out some complimentary food for our enjoyment. This

way we can do some game analysis over a pint and some food. Sign up

today and let's get this thing rolling. If you have any questions,

comments, or suggestions, please do not hesitate to reach out to

Shaun at sconway@capecodchatter.com or call 508-815-4033.