CASL Co-Ed Soccer Soccer (Outdoor) · Co-Ed Intermediate
Requires Active Participant Membership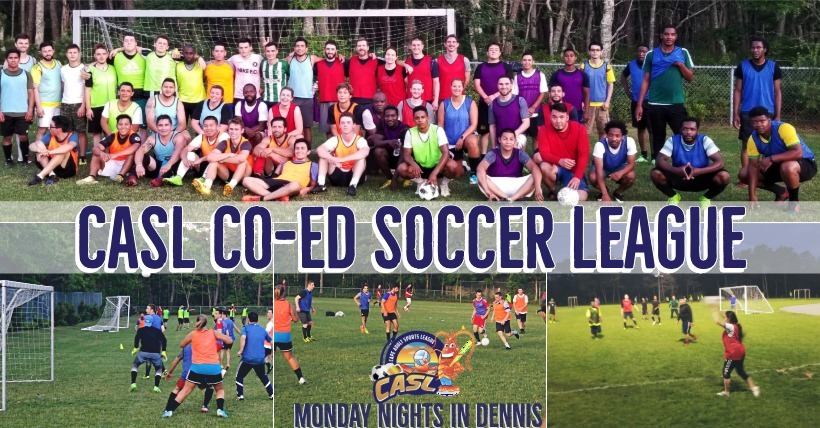 We have received approval from the State, the town, and the Board of Health to start up Soccer again. We might try to do a couple night a week if there is enough interest. There will be some safety rules and precautions added to make sure we can make this as safe as possible. ALL PLAYERS MUST REGISTER ON THE SITE before playing. This will be the online waiver for participating and also provide us with contact information in case contact tracing is required. Please send this to all people that might play and let's get this thing rolling. More safety details of masks, shirts, and rules of play will be sent out to participants.
This is going to be a Hybrid of a season/drop-in style play. We will break players into smaller groups and those groups will switch through the night. This will change your team and your opponents on a nightly basis, but it will also minimize the amount of people you play with in an evening.
Example: You will be part of Pod 1 with 4/5 players, they will play together with Pod 2 of 4/5 players. They will play against Pod 3 and pod 4. The game will be played for a set period of time, then Pod 1 will play with Pod 3, and Pod 2 will play with Pod 4.
This is all new and we are trying to make it so that we can get back to the game, but also keep participants as safe as possible during a time of a pandemic. We are always open to hear ideas of how to make this better or concerns that you might have for the league. We just ask that you remain patient and understand we are trying to make things work in a difficult time.

Please reach out with any questions to sports@capecodchatter.com
Thank You,
Shaun Conway