Fall 2021 CASL Co-ed Kickball League Kickball (Outdoor) · Co-Ed Just for Fun
Requires Active Participant Membership
MonTueWedThuFriSatSun 6:15pm to 9:30pm
Team Fees

Regular

$70.00

per player
Free Agent Fees

Regular

$70.00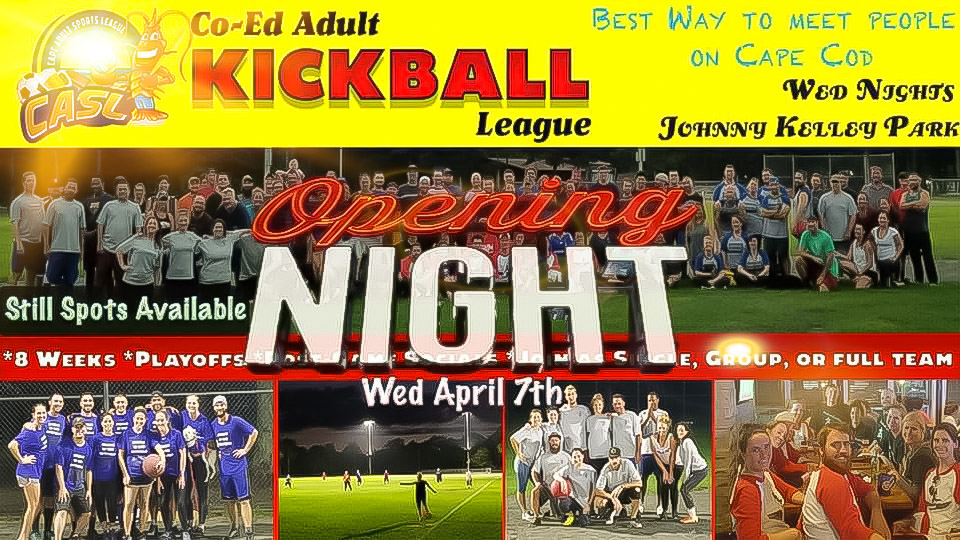 *Guaranteed 15 Games *Social Style League *Co-ed League *Emphasis on having Fun
*Playoffs *10 Players per Team. *Meet New People *All Skill Levels


The Summer session has been a blast. 14 teams have been battling it out with the new ladder style scheduling, which has led us to the most even matched season yet. The covid restrictions are being eased as cases are down and vaccinations are up. We should be able to have a more normal season. Come in and register as a single, small group, or as a full team. All current teams are guaranteed a spot in the Summer session, we will then open it up to new teams. Let's make this the best season of CASL yet.

Details of the League:

Games are played Wednesday nights at Johnny Kelley Field in Dennis. We reserve the right to offer makeup games on another night of the week

7 regular season Weeks

Every team makes the playoffs

Winning team gets the honor to raise the coveted CASL Cup and have their plaque added to trophy

Covid-19 Clause:

We are in uncharted territory with this pandemic. The rules seem to change on a daily basis, but the main goal is for everyone to remain as safe as we can during this time. This has meant everything from flattening the curve to a multi-stage reopening, to a play it by the numbers with cases. This puts the league in a weird scenario of wanting to open, but not wanting to be left completely financially vulnerable. The refund policy for the season will be the following.
All season cancellation due to the pandemic can only be used towards future leagues
Amount will vary based on when the league is cancelled. There are heavy upfront costs, so the league will be weighed heavier that way as well

Cancelled within the first 2 weeks. $40 credit towards a future league
Cancelled between 3-4 Weeks $30 credit towards future league
Cancelled between 5-6 $20 credit towards future league
Cancelled after week 6 $5 credit towards future league

I hope that everyone is understanding of the scenario. It is the only way that the league can come back at this point.
We want to get as many people playing as possible, so join as a full team, a small group, or as an individual "Free Agent". We will work on putting the teams together to make this a fun league for everyone. Keep in mind that this is a social kickball league sprinkled with friendly competition. If you are not laughing, then you are doing it wrong.
REGISTRATION OPTIONS

Join as a Captain: Do you have a group of at least 8 that want to play in the league? Register as a Captain and you will be given tools to notify and recruit players to join your team. We will round out your minimum 10 player team with free agents.
Join as a Team Player: Use this registration option if you are recruited by a Captain to join their team.
Join as a Small Group or Free Agent: Do you want to join the league to meet new people on your own or as a smaller group? Use this option. If you are a small group, be sure to all use the same group name, so that we will know to put you on the same team.If you are an individual just join as a free agent and we will place you on a team.
Sign up today and let's get this thing rolling. If you have any questions,comments, or suggestions, please do not hesitate to reach out to

Shaun at sconway@capecodchatter.com or call 508-815-4033.